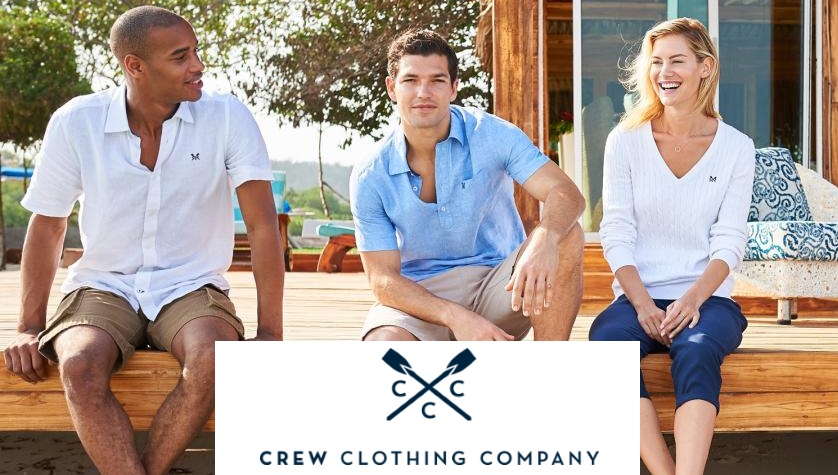 20% Discount on Crew Clothing - Just show MOD90
Ongoing Offer.
Crew Clothing Military Discount
Military and Forces staff can now SAVE 20% discount when they show a valid ID in-store. There is also an online discount available. Save on your next set of civvies by shopping at Crew Clothing!
Crew Clothing Beginnings
Launched in 1993, Crew Clothing is a UK-based clothing retailer specialised in casual outwear, shoes, and accessories for men and women.
To date, Crew has over 40 outlets scattered throughout the country, a mail-order catalogue, as well as an online store. Recently, the brand also expanded offshores and opened its first stores in Dubai.
One of the UK's best-known casual wear brands, it proposes a line of British-inspired clothes influenced by the nation's sporting and yachting traditions.
Why Shop From Crew Clothing?
Crew is known for its clean, casualwear lines that inspired generations. A wide selection of sweatshirts, tees, jackets, and bottoms make it the perfect brand for your lazy Friday evenings, outdoor weekends, or picnics at the beach.
Everything, from clothes to accessories, is well-made in good-quality linens and cotton. The garments are on the expensive side, but they are worth the price.
We also like the assortment of clothes and accessories. It might be harder to find bigger sizes, though.
Who Is Crew Clothing Suitable For?
If you're a fashionista, Crew might not be the best stop for your clothes shopping. Their collections don't impress with cutting-edge lines or fancy designer labels. No sparkling glitter either, just classic sporty models.
Think polo shirts and dresses, casual outwear, and even a nice assortment of beachwear and accessories.
While their clothes are safe pieces designed to do the job rather than stand out, Crew shines in terms of colours. Pretty pinks, blues, and turquoises define both men's and women's collections. Perhaps their collection of swimsuits is not the most extensive, but there is definitely something for everyone in their stores.
Crew Clothing Atmosphere
Shopping at Crew is an unforgettable experience. Jolly and fresh-faced staff are always happy to accommodate your requests, find the desired size, and even help you create original outfit assortments.
Shopping by mail or online is an equally fantastic experience. You can opt to have your parcels delivered or collect the orders in-store, while refund and return requests are dealt with promptly and professionally.
Crew Clothing Military Perks
Crew has joined the vast network of stores that offer armed forces and student discounts. Both categories benefit from 20% off both in-store and online as long as you comply with the company's T&Cs.
Our Verdict
It might not be the most fashionable out there, but Crew Clothing definitely knows how to attract its customers. Because in the end, we all need at least one simple, casual outfit to put on when relaxing with friends or enjoying outdoor adventures. Plus if you factor in your 20% Discount, its definitely worth getting something that you fancy!
It might not be the cheapest, but the quality of the fabrics is superlative. Just what you need to look stylish even when you're lounging at the beach or trekking up in the mountains. Comfortable and durable, Crew clothes are undoubtedly a staple of the iconic British style.