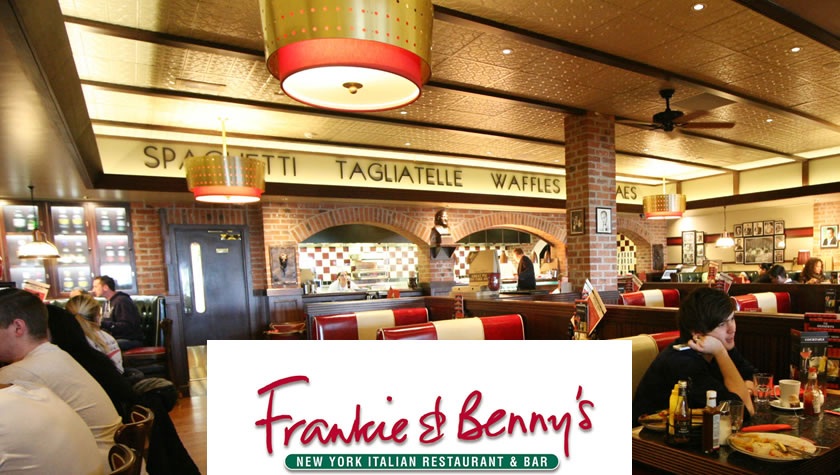 Frankie & Benny's Military Discount 
Food Quality
The food at Frankie & Benny's is good but not exceptional. Considering it's a chain restaurant and not some fancy fine dining venue, the quality is average.
The quality of the dishes tends to vary based on how quiet or full the restaurant is; this is a common occurrence in many other chain restaurants, but it's still something to be aware of. Some plates tend to be quite greasy, and the vegan and vegetarian dishes tend to taste quite bland.
All in all, though, it's a great place where to have a quick lunch or spend a fun evening without spending a fortune.
How are the Restaurant Facilities?
Frankie & Benny's has all the facilities you'd expect from a modern restaurant. Free Wi-Fi is available at all locations, so you can let the Instagrammer in you snap that perfect shot and share it with your audience.
For families, all restaurants have high chairs and baby changing facilities. A kid's menu with appetising dishes is also available for toddlers and children up to 11 years old.
The restaurant also has disabled facilities at all locations and accepts all major credit cards. Mobile payments via Android or Apple Pay are also accepted, as well as contactless payments with your card.
Parking facilities may or may not be present depending on the restaurant's location. The easier way to find out if you can park your car safely when visiting is by contacting the Frankie & Benny's in your area.
How good are their Staff?
Depending on location, you can have one of the most amazing dining experiences or deal with rude staff. During busy periods you may find that staff are dealing with so many things that their attention to detail might slide.
Our Verdict
Frankie & Benny's is not the greatest nor the worst chain restaurant. It's a cosy place where to spend an evening with family or friends; the food is good, the staff is usually amiable, and the atmosphere is pleasant. Don't expect anything fancy, but definitely worth giving it a try.