EE Mobile Phones for British Forces + SIM ONLY DEALS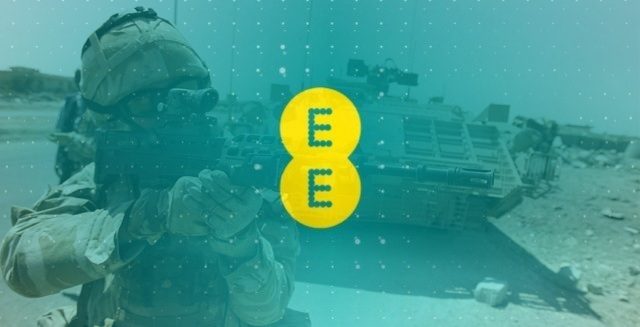 20GB SIM on EE for £21
Great deal with 20GB Sim only deal + unlimited texts and unlimited minutes for £21. Plus free EU and International roaming for data, minutes and text. 3 Month access to BT Sports APP. Offer ends 29 AUG 2017.

Get iPhone 7 with 25GB for price of 5GB
Get 25GB of dat for the price of 5GB when you buy the iPhone 7.

Get iPhone 7 Deal
Get iPhone 7 32GB Mobile with 1GB of data, unlimited minutes and texts - Now only £37.99 a month. Loads of colour handsets available.
EE FORCES MILITARY DISCOUNT
EE are offering some great deals for British Forces, Military Veterans and their families! Whatever mobile phone contract or sim plan you're looking for they have it all. They have been around for years and offer some great competitive deals for you and your family.
Make sure you keep coming back as we regularly update the military offers and deals!

No Brainer deals from EE!
Get all the latest deals and offers from the EE Website - daily updated!Includes the new Samsung Galaxy S8!!!
HUGE DATA DEALS FOR MILITARY FORCES + FAMILY

New Samsung S8 with 3GB of data
EE Customers can get the new Samsung S8 with 3GB and save £180 off the handset!

iPhone 7 Offer
Get the New iPhone 7 32GB for £37.99 a month & £49.99 upfront cost, with 1GB Data, Unlimited minutes and texts. Plus get 3 months Free BT Sport App.

iPhone 7 PLUS Offer
Get the New iPhone 7 Plus 32GB for £62.99 month & £9.99 upfront cost with 25GB Data, Unlimited minutes and texts on 4GEE Plan. Plus get 24 months Free BT Sport App.

Samsung Galaxy S7
Get the brand new Samsung Galaxy S7 today from EE for only £42.99 a month - Unlimited minutes, texts and 15GB of data. 24 Months of BT Sport App. Don't miss this Offer!

Samsung Galaxy S7 Edge
Get the Samsung Galaxy S7 Edge 32GB for only £9.99 on EE. You get unlimited minutes and texts with 15GB of data. Plus get 24 Months BT Sport APP. Pay £47.99 a month. Plus loads of other deals to fit your needs!

Save £149.99 on iPhone 6S
Save £149.99 on the iPhone 6S only £37.99 a month. Includes 1GB data.

MASSIVE SIM ONLY DEALS
Get an awesome SIM only deal from EE - Which include 10GB of 4G data, Unlimited minutes and texts for ONLY £19.99 a month, when you buy online today from EE!! Plus loads of other massive data plans!

UP TO 50% Discount on PAYG Offers
Get 50% Discount on Pay as you go Phones today online when you buy from EE!!

UPGRADE and SAVE UP TO 25%
Here is a list of the amazing upgrade offers and promotions savings you even more money! So upgrade today and you could save on your new phone, SIM deal or package!

4G WIFI MINI
Take your broadband with you! Get wifi superfast speed anywhere! Plus get Discount on the 4G Wifi Mini with with 4GB for only £12.00 a month.