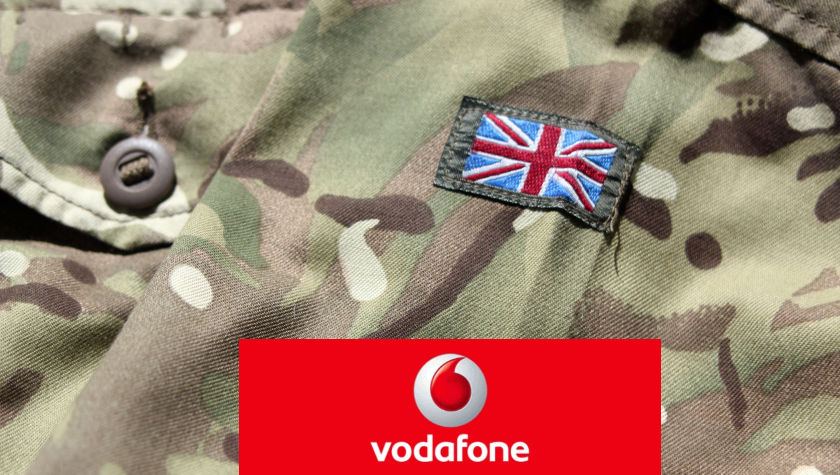 Our guide to the best forces deals for Vodafone.
25% Discount at Vodafone
Military forces, Reserve, Cadets for forces with valid Military email address can apply for 25% Discount on monthly airtime plans and 15% on SIM only plans.
Vodafone are one of the worlds leading technology communications company and offer their services in 65 countries. They offer a range of products and services, these include:
Pay monthly phone,
SIM only deals,
Home broadband,
Phone top ups,
Phone upgrades,
Online assistance.
Military Discount Vodafone Deal
British Forces and their Families deserve the best deals – and this is one of them! So make sure you buy your phone with Vodafone today and claim your discount. We have teamed up with Vodafone to bring you this amazing deal for British military forces and MoD employees.
If you fall under either of those categories then you could get 15% Vodafone discount off their SIMO line rental and 25% discount on new pay monthly airtime contracts. As if that wasn't enough you can also get this discount for up to five family or friends too! To get this deal there are a few terms to remember, these are:
You or your friends and family members need to be a new Vodafone customer. Or you will be ready to upgrade and buy a new bundle.
When choosing your bundle, you must buy it directly from Vodafone.
Bundles bought through partners, such as Carphone Warehouse or Quidco are NOT eligible for the VEA discount.
Apply online for discount.

DAILY UPDATED Offers from Vodafone - Check here
Pick up the very latest offers and deals on Vodafone with their daily deals! Check them out - daily updated!
FAQs and Help
Do Vodafone do military discount?
Yes, Vodafone offer up to 25% discount for armed forces and MoD employees. This deal can be redeemed on the Vodafone site, all you need to do is apply online for the discount or add it to your existing plan.
What do I need to sign up for Vodafone Forces Discount?
The only way you can currently qualify for your discount is to use your forces email address. Therefore it becomes more difficult if you are a veteran. You will have to contact them direct and maybe upload proof of service to qualify for the discount.
However this does mean than Cadet Forces Adults can qualify for the discount as you would have access to the internal email system. This can be achieved in the same way by signing up to the vodafone advantage scheme.
What is Vodafone VA discount?
Vodafone Advantage (VA) is a way for businesses to help their employees save up to 15% discount on certain Vodafone services. If you're not sure whether you may be eligible for VA, then you can either ask your employer or submit an application through the VA page on the Vodafone website. If you're eligible for the discount Vodafone with send you your discount to your work email, so remember to use this one when checking your eligibility!
How do I use a Vodafone Advantage discount?
To use your VA discount for Vodafone, follow these steps:
Pick your pay monthly bundle on the Vodafone website and add this to your basket.
Go to your basket and enter the code at checkout.
The code should now be applied to your bundle, and you can now pay.
Note: Your individual discount code has two uses, so remember to share it with a friend or family member for maximum savings!
Does Vodafone offer free delivery?
Yes, Vodafone offers free next day delivery for online orders made before 10pm. There are a few exclusions that may apply, but delivery should still remain free. You can also use your order number and postcode to track your order, so then you get the most up to date delivery details.
What is the Vodafone returns policy?
Vodafone offer a hassle-free return to customers 14 days from the date you receive your product. If your item is faulty then you can return it within 30 days of the date you first received it.