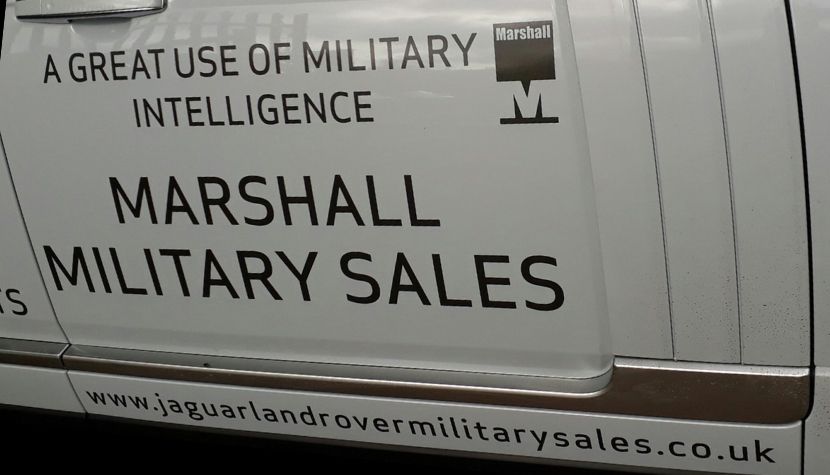 Marshall Jaguar and Land Rover Military Sales
Part of Marshall Group Companies, Marshall Jaguar and Land Rover Military Sales is a division focused on offering manufacture-backed savings on all new Jaguar and Land Rover vehicles to British Forces personnel. With services tailored to servicemen needs, the company proposes a wide range of ready-to-buy cars or gives the possibility to customise the vehicle to your specifications. All while benefiting from special deals and discounts.
Marshall Military Sales Programme
Dedicated to full-time serving members of the H.M Forces, retired members who have left their full-time role in the last 5 years, or NATO members, the Marshall Military Sales Programme offers preferential prices and manufacturer discounts on all new Jaguar and Land Rover vehicles.
Jaguar's luxury sports saloon cars deliver an elegant, yet agile driving experience thought for urban environments, whereas the Land Rover range includes premium all-wheel drive cars capable of tackling all terrains.
No matter what kind of vehicle you'd like, you can take full advantage of your status and benefit from factory-direct military pricing and exclusive savings. H.M Forces members in full-time employment and deployed overseas can opt for left-hand drive specifications and may even be able to export their vehicles tax-free.
Whatever your choice, the shopping experience is undeniably enhanced by a dedicated sales specialist who will fully assist you throughout the process.
Military Sales Financial Plans
You don't have to pay the full price upfront to enjoy the luxury of your new vehicle. With over 100 years of experience, Marshall proposes a range of financing options and affordable financial plans tailored to your needs.
A team of specialists who have either served or have experience in dealing with military credit requests will assist throughout the process, making it easier to obtain the needed credit.
Most financial plans come with fixed interest rates and low to no upfront payments through personal contract payments, hire purchase, or personal contract hire agreements.
Motability Adaptations
Marshall Military Sales also acknowledges the needs of serving or retired members who suffered irreversible injuries. In other words, you can take advantage of your status and access exclusive deals even if your vehicle needs Motability adaptations.
The dealer will supervise the adaptation process from start to finish, ensuring that your vehicle meets all safety standards and complies with the road laws and regulations.
Our Verdict
Catering to the specific mobility needs of military personnel, Marshall Jaguar and Land Rover Military Sales provides much more than access to exclusive savings. The team will assist you throughout the buying process, making sure you'll receive the vehicle of your dreams. Whether you want to settle for a delivery-ready car or would rather have one built to your specifications, the company makes it all possible.
Adapted vehicles are also available for wounded members, and you can even opt for a left-hand driving vehicle if you're deployed overseas.
Giving you the possibility to access exclusive prices and dedicated financing options, Marshall Jaguar and Land Rover Military Sales makes it easy for serving or retired members to live their dream of driving a luxury car without the financial burden often associated with these vehicles.