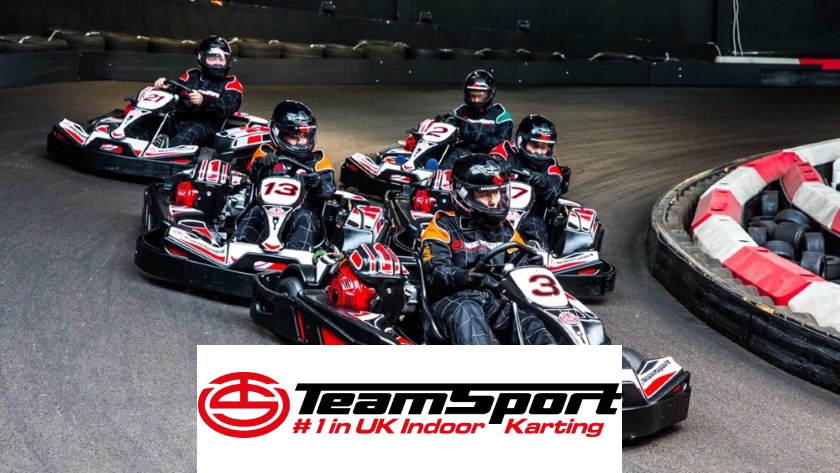 Up to 50% Military Discount at TeamSport Karting
Ongoing Offer.
TeamSport Military Discount
Military Staff can get discount at TeamSport, just take your ID with you on any weekday and get up to 50% individual discount or 10% Discount on Mini Grand Prix.
This discount for Forces is available all year round and they have loads of venus across the UK.
What is TeamSport?
Operating more than 30 circuits all over the UK, TeamSport is the nation's largest indoor go-karting company. It opened its first track in Guildford in 1992, and today it has numerous tracks in various cities including London, Birmingham, Liverpool, Leeds, Cardiff, and Manchester, to name just a few.
Over the years, TeamSport's tracks have attracted famous motorsports drivers including Formula One World Championship winner John Surtees.
Offering entertainment for kids and adults, it's one of the best places where to spend quality time in the company of your beloved ones.
TeamSport's Tracks
TeamSport brags for being one of the first companies in the UK to offer purpose-built indoor go-kart tracks and circuits. Their portfolio of tracks ranges between 375 and 1,000 metres in length, offering enhancing features such as multiple levels, tunnels, and chicanes.
An adrenaline-packed yet eco-friendly track was opened in 2011 in London. Indeed, their Tower Bridge location boasts eco-friendly karts running on lithium batteries and capable of reaching speeds of up to 40 mph.
Who Is TeamSport Go Karting For?
TeamSport Go Karting is a welcoming place for the families who want to spend some time together, but it's also a great choice for students, groups of mates, or team-building purposes.
The company offers various types of go-karting experiences for children and adults.
Kids 8 years old or over are welcome as long as they have an inside leg measurement of at least 25 inches. While there is no minimum height requirement, the leg requirement is a must because if their legs are shorter, they won't be able to reach the pedals.
The same goes for adult karts, but in this case, you must have an inside leg measurement of at least 29 inches.
There are no other height or weight requirements, but if you're particularly tall, short, or overweight, you could feel uncomfortable in the kart.
Children can race either on their own or accompanied by an adult during the special sessions.
Events And Offers
Whether you're hunting for a discount or want to attend an event, TeamSport has a dedicated offers section on its website. Here, you can find anything from hot deals to weekly offers, such as the 3 for 2 offer which gives you a free extra lap or unlimited karting on Sundays and bank holidays after 5PM.
This section is updated regularly with new offers and exciting events you can attend.
Our Verdict
TeamSport is undoubtedly a great choice for an adrenaline-fueled night with your buddies or a fun day with the kids. It's an excellent place for individuals and small groups, families, or corporations.
Whether you want a different stag or hen do or look for a fun team-building activity, indoor go-karting at TeamSport can satisfy all your needs.
With locations all over the UK and a wealth of hot deals and offers, TeamSport surely knows how to take entertainment to the next level.