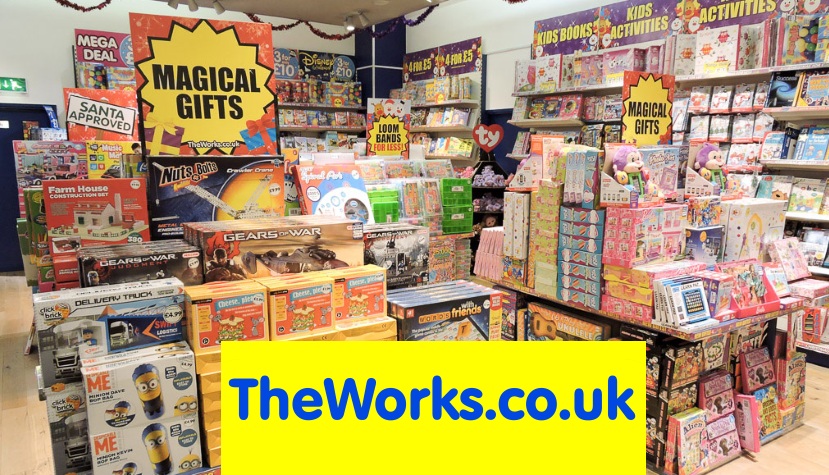 MILITARY OFFERS AT THE WORKS
The Works is a UK discount retailer offering a range of books, arts and crafts, gifts, toys, games, and stationary.
Using their online website, customers can browse per category, using the search bar, or even current offers. Brand that The Works partner with include Unicorns, Harry Potter, Mermaids, Slime, and PJ Masks.
Looking for some inspiration? The Works have their own blog offering insights as to how customers can use The Works' products to relax, entertain, and even create! Such articles include "Making Your Own Magical Christmas Eve Box in 5 Easy Steps" and "3 Roald Dahl Fan Theories".
Making an online account with the retailer permits customers to record their details, making each purchase faster every time! Customers can also receive The Works newsletter, so they'll never miss a sale.
Not sure where your local store is? Finding a nearest store is easy when using The Works Store Locator tool on their website.
The Works offer a rewards card that allows customers to earn £1 for every 15 points, and they'll receive 5 points for every £1 spent! Just simply get the card in-store or online, register the card online, link the card to one's account and start spending!
Customers can shop at The Works in their store or using their website. The Works offer a delivery service ranging from the follow options:
·         Standard delivery costs £2.99 and can take between 6-8 working days, however this delivery is free on orders over £20.
·         Click and Collect is free and can take between 6-8 working days to arrive in-store.
When items aren't as they seemed, no longer needed, or in some cases, faulty, The Works accepts returns free as long as the items are returned in the same condition as sold. Returns can be processed within 30 working days of the purchase.
To contact The Works, customers can find FAQs on their website, as well as customer services telephone numbers, e-mail addresses, and the retailer's postal address.
Are you a student looking for some cheeky discount? Well The Works offers 15% off for all students using Student Beans!
The Works accepts payments via PayPal, Visa, Mastercard, and American Express.
To stay up to date with The Works' top deals and new products, customers can sign up to their newsletter, or follow them on their social media platforms: Facebook, Twitter, YouTube, Instagram, and Pinterest.